Peuplements des forgerons et traditions sidérurgiques : Vers une histoire de la production du fer sur le plateau de Bandiagara (pays dogon, Mali) durant les empires précoloniaux
While the Dogon people have been the subject of well documented and published studies, unti now the smiths associated with the Dogon have not themselves been specifically studied. This works concerns the traditional production of iron in Dogon Country during the period between the last pre-colonial empires (14th centuries) and the arrival of the French colonists at the turn of the 20th century. It aims to clarify the identity of the smiths associated with the Dogon and their role, both social and technological, to identify metallurgical traditions and outline the development of iron production in the region. Due to research both actualistic and diachronic, and both local and extensive, which combines different complementary approaches including analysis of written sources, surveys of oral tradition, archaeological survey and excavation and palaeometallurgical observations, Caroline Robion-Brunner has developed an encompassing scenario for the population history of smiths in the Dogon Country and their production, which she places within the dynamics of the Central Nigerian Plateau.
Si les Dogon ont fait l'objet d'études bien documentées et publiées, les forgerons associés aux Dogon n'avaient fait jusqu'à ce jour l'objet d'aucune étude spécifique. Cet ouvrage concerne la production traditionnelle du fer en pays dogon durant la période comprise entre les derniers grands empires précoloniaux, au milieu du deuxième millénaire de notre ère, et l'installation de la colonie francaise, au tournant des 19e et 20e siècles. Il vise à préciser d'identité des forgerons attachés aux Dogon et leur rôle, tant social que technique, de définir des traditions sidérurgiques et de cerner l'évolution de la production du fer dans la région. Grâce à une recherche tant actualiste que diachronique, et à la fois locale et extensive, qui associe diverses approches complémentaires telles que les analyses des sources écrites, les enquêtes de tradition orale, les prospections et fouilles archéologiques ou les observations paléométallurgiques, Caroline Robion-Brunner a élaboré un scénario global de l'histoire du peuplement des forgerons du pays dogon et de leur production, qu'elle replace dans la dynamique du plateau central nigérien.
Fichier principal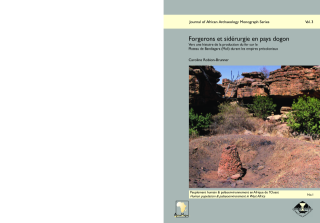 Publication-Monographie-JAA-Robion-Brunner.pdf (37.79 Mo)
Télécharger le fichier
Origin : Explicit agreement for this submission