Sediment mining in the minor riverbed of the middle Garonne river during the second half of the 20th century
Extracción de áridos en el cauce menor del tramo medio del río Garona durante la segunda mitad del siglo xx
Les extractions de granulats dans le lit mineur de la moyenne Garonne toulousaine durant la seconde moitié du XXè siècle
Starting from 1960, sediment mining in rivers has highly developed in France like in many industrialized countries in the world. This mining activity has led to a degradation of rivers with many hydromorphological and ecological impacts. On the middle section of the Garonne River, between Toulouse and the confluence with the Tarn River, the hydro-sedimentary dynamics was strongly modified over the last decades, in connection with an important sediment deficit. The causes of this change are primarily of anthropic origin, the first of which is sediment mining in the riverbed. This study aims to analyze the sediment mining between Toulouse and the confluence with the Tarn from 1960 to 1980 and proposes a reconstruction of the spatio-temporal evolution and the quantification of this activity. The consequences of industrialization of this activity are considered.
Desde 1960, la extracción de áridos en los ríos se ha desarrollado notablemente en Francia, al igual que en otros países industrializados, provocando la degradación hidromorfológica y ambiental de los ríos. En su tramo medio, entre Tolosa y la confluencia con el río Tarn, la dinámica sedimentaria del río Garona se ha visto muy modificada en las últimas décadas, generando un déficit de sedimentos. El origen de este cambio es fundamentalmente antrópico, principalmente debido a la extracción de áridos en el lecho del río. Este estudio tiene por objeto analizar la extracción de áridos en el Garona entre Tolosa y la confluencia con el Tarn, desde 1960 hasta 1980, y reconstruir la evolución espacio-temporal de esta actividad de manera cuantificada. Las consecuencias de la industrialización de esta actividad son consideradas.
À partir de 1960, l'extraction de granulats en lit mineur s'est fortement intensifiée en France à l'instar de nombreux pays industrialisés dans le monde. Ces prélèvements massifs ont eu pour conséquence, entre autre, des dégradations hydromorphologiques et écologiques notables des cours d'eau soumis à exploitation. Sur la Moyenne Garonne toulousaine, correspondant au secteur entre Toulouse et la confluence du Tarn, la dynamique hydro-sédimentaire a été fortement modifiée au cours des dernières décennies en relation avec un déficit sédimentaire marqué. Les causes de ce changement sont essentiellement d'ordre anthropique, au premier rang duquel les prélèvements de granulats dans le lit mineur. Cette étude se propose d'analyser les extractions de granulats entre Toulouse et la confluence avec le Tarn au cours des années 1960 à 1980 et propose une reconstitution de l'évolution spatio-temporelle de l'activité et de sa quantification. Les conséquences de l'industrialisation de cette activité sont envisagées.
Fichier principal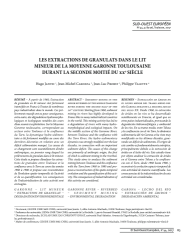 Jantzi_etal_2017_cor.pdf (7.68 Mo)
Télécharger le fichier
Origin : Explicit agreement for this submission