ANALYSE DIDACTIQUE AU NIVEAU MICRO D?UN CORPUS VIDEO PORTANT SUR LA DEMARCHE D'INVESTIGATION EN PHYSIQUE, DANS LE CADRE DE LA THEORIE DE L'ACTION CONJOINTE EN DIDACTIQUE
This paper deals with the use by other researchers of classrooms video corpora created by one researcher for his/her own use. We chose one video concerning an inquiry-based lesson in physic in grade 8. In the paper, we present a short analysis at a micro level of the problematizing step. We show how the teacher's epistemological point of view impedes him to develop a real inquiry process as asked in the curriculum, and thus constraints his teaching practice. But the lack of certain pieces in the corpus (like teacher's interviews) prevented us to reduce the uncertainty of our video-based inferences. Thus our study lets us think that it is necessary to gather a minimum of data complementing the video (like interviews, students' worksheets...) if we wish this corpus to be used by other researches. This minimum of data has to be discussed. Our study also shows the interest to have some tools to represent the different dynamics revealed by the analysis in order to communicate them to the other researchers who will analyze again the videotaped lesson with their own theoretical framework. These representations could be considered as boundary-objects for crossed-analyzes.
Dans le but d'examiner les phénomènes survenant lorsqu'un chercheur se saisit de corpus comportant principalement des vidéos d'enseignement réalisées par d'autres et déposées sur une base d'enregistrements, nous avons analysé d'un point de vue didactique une séance d'enseignement de la physique comportant une démarche d'investigation. Dans la communication, nous présentons l'analyse au niveau micro que nous avons pu réaliser d'un court épisode de la phase de problématisation. Si nous avons pu montrer comment l'épistémologie du professeur, en conflit avec celle que les textes paraissent associer à la démarche d'investigation, conditionne sa pratique, l'absence de certaines pièces dans le corpus ne nous a pas permis de réduire l'incertitude liée à une partie de nos interprétations. Aussi, l'analyse réflexive sur la recherche menée laisse supposer notamment la nécessité d'un recueil de données a minima (à débattre) tant au niveau des prises de vues que des documents complémentaires que l'on peut y associer, si on souhaite qu'un corpus soit exploitable par d'autres chercheurs utilisant d'autres cadres théoriques. Elle fait aussi apparaitre l'intérêt de disposer de modalités de représentation des dynamiques perçues pour les rendre communicables aux futurs utilisateurs du même corpus. Ces représentations pourraient jouer le rôle d'objets-frontières lors d'analyses croisées.
Fichier principal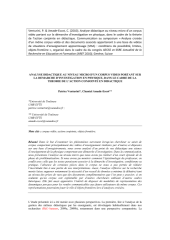 PV-CAE_AREF_2010.pdf (309.17 Ko)
Télécharger le fichier
Origin : Files produced by the author(s)