Bridging the intention‐realization gap in the process of returning. The role of networks in the experience of Ukrainians in Madrid
De la intención de retornar al retorno El papel de las redes en la experiencia de los ucranianos en Madrid
De l'intention de revenir au retour : le rôle des réseaux dans l'expérience des Ukrainiens à Madrid
The phenomenon of return migration has always received less attention than immigration/emigration processes. On the other hand, its elements such as return intentions and return decision making have been studied almost exclusively from a static point of view, asking questions about intentions at a given point in time and dissociating action from intention and the preparatory phase. In order to fill these knowledge gaps, taking the case of Ukrainians in Spain, I focused on the formation and evolution of return intentions during the migration project. Furthermore, I have analysed the concrete process of return, showing the relationship between the intention to return and the realisation of the return. A complex and innovative theoretical and analytical framework was developed to use a holistic approach to the phenomenon. The following key aspects defined the theoretical and analytical framework: 1) Return was not seen as the end point of the migration process; 2) Longitudinal perspective was adopted; 3) Comparative perspective was needed; 4) Emphasis was put on the meso-level perspective (social network analysis); 5) Life-course perspective was introduced in the model. The fieldwork consisted of 165 qualitative semi-structured interviews (in Spain and Ukraine) on migration trajectory, intentions, motivations, decisions and strategies, complemented by a questionnaire interview to build the personal network.
El fenómeno de la migración de retorno siempre ha recibido menos atención que los procesos de inmigración/emigración. Además, sus elementos, como las intenciones de retorno y la toma de decisiones de retorno, se han estudiado casi exclusivamente desde un punto de vista estático, interrogando sobre las intenciones en un momento dado y disociando la acción de la intención y de la fase preparatoria. Para llenar estas lagunas de conocimiento, tomando el caso de los ucranianos en España, me centré en la formación y evolución de las intenciones de retorno durante el proyecto migratorio. Además, he analizado el proceso concreto del retorno, poniendo de manifiesto la relación entre la intención de retornar y la realización del retorno. Para abordar el fenómeno desde una perspectiva holística se ha desarrollado un marco teórico y analítico complejo e innovador. Los siguientes aspectos clave definieron el marco teórico y analítico: 1) El retorno no se consideró el punto final del proceso migratorio; 2) Se adoptó la perspectiva longitudinal; 3) La perspectiva comparativa era necesaria; 4) La atención se centró en la perspectiva de nivel meso (análisis de redes sociales); 5) Se introdujo en el modelo la perspectiva del curso de vida. El trabajo de campo consistió en 165 entrevistas cualitativas semiestructuradas (en España y Ucrania) sobre trayectoria migratoria, intenciones, motivaciones, decisiones y estrategias, complementadas con una entrevista mediante cuestionario para reconstruir la red personal de cada entrevistado.
Le phénomène du retour migratoire a toujours reçu moins d'attention que les processus d'immigration/émigration. Par ailleurs, ses éléments tels que les intentions de retour et la prise de décision en matière de retour ont été étudiées presque exclusivement d'un point de vue statique, en posant des questions sur les intentions à un moment donné et en dissociant l'action de l'intention et de la phase préparatoire. Afin de combler ces lacunes de connaissances, en prenant le cas des Ukrainiens en Espagne, je me suis concentrée sur la formation et l'évolution des intentions du retour au cours du projet migratoire. En outre, j'ai analysé le processus concret du retour, montrant la relation existante entre l'intention de revenir et la réalisation du retour. Un cadre théorique et analytique complexe et novateur a été élaboré afin d'utiliser une approche holistique du phénomène. Les aspects clés suivants ont défini le cadre théorique et analytique : 1) Le retour n'était pas considéré comme le point final du processus de migration ; 2) La perspective longitudinale a été adoptée ; 3) La perspective comparative était nécessaire ; 4) L'accent a été mis sur la perspective du niveau méso (analyse des réseaux sociaux) ; 5) La perspective du parcours de vie a été introduite dans le modèle. Le travail de terrain a consisté en 165 entretiens qualitatifs semi-directifs (en Espagne et en Ukraine) sur la trajectoire migratoire, les intentions, les motivations, les décisions et les stratégies ; ils étaient complétés par un entretien-questionnaire pour retracer le réseau personnel.
Fichier principal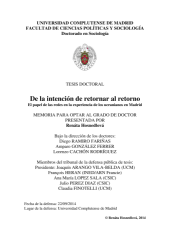 These_Renata_Hosnedlova.pdf (5.37 Mo)
Télécharger le fichier
Origin : Files produced by the author(s)