Education field of industrial engineering in Colombia 1950-2000
EL CAMPO DE LA EDUCACIÓN EN INGENIERÍA INDUSTRIAL EN COLOMBIA 1950-2000
LE CHAMP DE L´EDUCATION EN INGENIERIE INDUSTRIELLE EN COLOMBIE 1950-2000
This work aims to investigate from a historiographical perspective in light of Bourdieu's field theory and social representations of Abric configuration processes, boom and saturation of industrial engineering as "field" to learn discipline in Colombia between 1950 and 2000 from the qualitative analysis of interviews with teachers and documents of industrial engineering programs from three of the best universities in the country : Universidad Nacional de Colombia in Medellin, Universidad Industrial de Santander in Bucaramanga and Universidad from Los Andes in Bogota. With the settlement of capitalism and strengthening industry generated after the development model implementation around 1950 that started mass production and determined the need for new rationalization work forms, such as, to permit description of trades measuring time and motion of worker, the precise establishment of cost operation and the establishment of work standards and production incentives. Consequently, there was an untimely business boom in Colombia motivated the social division of labor and the demand for education in industrial engineering soared to become saturated, the process of diversification and stratification marked the development of both the discipline and its training camp. All this leads to consider the possibility of new discourses to rethinking from new productions models such as equitable economy or eco-economy.
El presente trabajo titulado "El campo de la educación en ingeniería industrial en Colombia 1950-2000" tiene como propósito indagar desde una perspectiva historiográfica los procesos de configuración y transformación de la ingeniería industrial como "campo" de saber disciplinar entre los años 1950 y 2000. Se tomó este periodo denominado de modernización caracterizado por el asentamiento del capitalismo luego de la implantación del modelo de desarrollo a mediados del siglo XX, e identificado por el crecimiento urbano, industrial y educativo en Colombia. La educación particularmente en ingeniería experimentó un crecimiento sin precedentes promovido por las agencias internacionales. La investigación adelantada es de carácter cualitativo y de enfoquehistórico hermenéutico. El trabajo de campo se adelantó a partir del análisis de entrevistas realizadas a profesores de los programas de ingeniería industrial en universidades del país, en Medellín, Bucaramanga y Bogotá. Estas universidades fueron seleccionadas con base en el acceso facilitado por las mismas. Para el procesamiento de la información se hizo uso del programa QDA (qualitative data analysis) y GEPHI (graph visualisation and manipulation in data mining). La industrialización , resultado del proceso de modernización, dio inicio a la producción en masa y determinó la necesidad de adoptar nuevas formas de racionalización del trabajo, tales que permitieran la descripción de oficios, la medición de tiempos y movimientos del trabajador y el establecimiento de costos y estándares de producción, condujo un intempestivo auge empresarial en Colombia que motivó la división social del trabajo y la demanda por educación en ingeniería industrial, los procesos de diversificación y estratificación marcaron el desenvolvimiento tanto de la disciplina como de su campo de formación. Estos procesos analizados en el presente trabajo a la luz de la teoría de campos de Bourdieu visibilizaron los procesos de configuración y transformación así como también las rupturas y dificultades que afronta el campo en la actualidad. Todo lo anterior hace pensar en la posibilidad de examinar otros discursos para la disciplina a partir de modos de producción más cercanos a nuestros propios saberes y cultura.
Ce travail intitulé « Le champ de l'éducation en ingénierie industrielle en Colombie 1950-200 » vise à étudier dans une perspective historiographique les processus de configuration et transformation de l'ingénierie industrielle comme "champ" d'apprentissage entre1950 et 2000, cette période de modernisation générée par l'instauration du capitalisme après la mise en oeuvre du modèle de développement dans le milieu du XXe siècle a été caractérisé par une croissance urbaine, industrielle et de l'éducation en Colombie. En particulier dans la formation des ingénieurs connu une croissance sans précédent promu par les agences internationales. La recherche qualitative avancée est basée sur l'analyse des entretiens avec les enseignants de programmes de génie industriel universités dans le pays à Medellín, Bucaramanga et Bogotá. Ces universités ont été sélectionnées sur la base de l'accès fourni par eux. Pour le traitement de l'information a été effectuée en utilisant les logiciels QDA (qualitative data analysis) et GEPHI (graph visualisation and manipulation in data mining). L'industrialisation, résultat du processus de modernisation, a commencé la production massive et a déterminé le besoin de nouvelles formes de rationalisation du travail, de façon à permettre la description des métiers, temps et mouvements du travailleur, la mise en place du coût et de standards de production. Par conséquence il y avait un boom économique prématuré en Colombie qui a motivé la division sociale du travail et la demande d'éducation en ingénierie industrielle, le processus de diversification et de stratification a marqué le développement de la discipline et de son camp de formation. Ces processus analysés dans le présent document à la lumière de la théorie des champs de Bourdieu affichent les processus de configuration et de transformation ainsi que les ruptures et les défis auxquels fait face le domaine aujourd'hui. Tout cela conduit à envisager autres discours pour la discipline à partir des modes plus proches de notre production de la connaissance et de la culture.
Fichier principal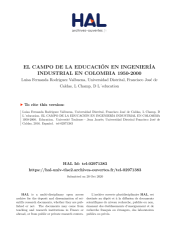 RODRIGUEZ_Luisa (5).pdf (2.28 Mo)
Télécharger le fichier
Origin : Files produced by the author(s)