L'expression de soi en ligne à l'adolescence : socialisation entre pairs et quête identitaire
The self-expression online is a popular practice appreciated by teenage girls, but often questioned for its effects on the development of the individual. In a comprehensive approach, this research aims to understand how these practices of self-expression online fit into a horizontal socialization process and contribute to identity development. Semi-structured interviews were conducted with 47 teenage girls aged 11 to 15 years. A lexicometric analysis with a Hierarchical Descending Classification (Alceste software) shows that self-expression online fits well in the heart of the horizontal socialization and proves to be much more than a means of social integration. Self-expression online, first learned from peers, is a practice both personalizing and customizable. It allows the mobilization of self-reflexive abilities in an intersubjective work, and reflects a real desire of social recognition and support.
L'expression de soi en ligne est une pratique très prisée des jeunes adolescentes, mais souvent questionnée pour ses effets sur le développement de l'individu. Dans une perspective compréhensive, cette recherche vise à appréhender en quoi ces pratiques d'expression de soi en ligne s'inscrivent dans un processus de socialisation horizontale et participent au développement identitaire. Des entretiens semi-directifs ont été menés auprès de 47 adolescentes âgées de 11 à 15 ans. Une analyse lexicométrique avec une classification hiérarchique descendante (logiciel Alceste) montre que cette pratique s'inscrit bien au cœur de la socialisation horizontale et est bien plus qu'un moyen d'intégration sociale. L'expression de soi en ligne, d'abord apprise auprès des pairs, est une pratique qui (se) personnalise. Elle permet la mobilisation de capacités réflexives sur soi, dans un travail intersubjectif, et reflète un réel désir de reconnaissance et de soutien social.
Fichier principal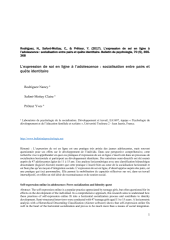 Rodriguez, N., Safont-Mottay, C., & Prêteur, Y. (2018).pdf (529.27 Ko)
Télécharger le fichier