Les sépultures chasséennes en contexte d'habitat de plein air du site de Saint-Antoine II à Saint-Aunès (Hérault, France).
This article on the Chassey site of Saint-Antoine II at Saint-Aunès (Hérault department) is focused on the funerary structures uncovered at this open-air habitation of the 303 ditched structures, 18 of them contained human remains. Within this corpus, we can distinguish simple narrow pits, dug to the size of the deceased and with an exclusively funerary purpose, and wider, circular structures that resemble domestic structures which may have been given a secondary use as a burial place for one or more individuals. We should also mention the discovery of another deposit, atypical due to the specific treatment of the deceased, which seems to have been in part dismembered and burned. The spatial distribution of these pits having yielded human remains in relationship to the domestic structures also suggests two organisational systems which are chronologically separate.
Cet article sur le site chasséen de Saint-Antoine II à Saint-Aunès (Hérault) est consacré aux structures funéraires mises au jour au sein de cet habitat de plein air. En effet, parmi ses trois-cent trois structures fossoyées, 18 d'entre elles renfermaient des restes humains. On distingue au sein de ce corpus des fosses simples étroites, ajustées à la taille du défunt et à vocation exclusivement funéraire, et des structures plus larges et circulaires qui s'apparentent à des structures domestiques qui ont pu être réutilisées secondairement comme lieu d'inhumation pour un ou deux individus. Il convient également de mentionner la découverte d'un dépôt atypique en raison du traitement particulier des défunts qui ont été semble-t-il en partie démembrés et brûlés. La répartition spatiale de ces fosses ayant livré des restes humains par rapport aux structures domestiques suggère par ailleurs deux schémas d'organisation qui se distinguent chronologiquement.
Fichier principal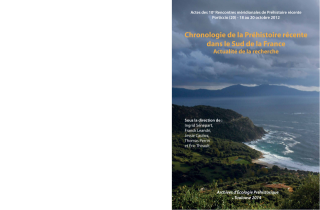 2014_RMPR10_Michel_Sendra.pdf (2.54 Mo)
Télécharger le fichier
Origin : Explicit agreement for this submission