De la dignité à la célébrité Les aristocrates acteurs et gladiateurs de César à Tibère
The participation of the aristocrats in public shows is a paradox. Indeed, while performing gave one immense celebrity, it was considered infamous, and thus degrading. Our work is based upon the study of 18 cases of senatorial or equestrian participation attested in our sources for the end of the Republic and the beginning of the Principate (49 B.C. – 37 A.D.). From Caesar to the middle of Augustus' reign, in exchange for money or favors, a few bankrupt or ambitious aristocrats sold their transgression and the infamous reputation they had gained by exposing themselves on stage or in the arena. However, the notable increase in these performances at the beginning of our era shows that they ended up being sought after in and of themselves. A few marginal aristocrats, probably influenced by the Greek culture of the agôn, believed they could take advantage of the change in the Roman regime to modify the aristocratic ethos and turn these shows into sites of competition and legitimization. Others, most of whom were young men disenchanted with the political evolution or lacking the means to make career, were aware of their transgression and played with it to obtain a depraved form of gloria, i.e. celebrity.
En 43 av. J.-C., le soldat Fadius [4] 1 accepte de livrer gratuitement deux combats de gladiateur dans l'arène de Gadès, mais refuse de passer un contrat (auctoratio) ; la foule le soutient face au questeur Balbus qui veut l'y contraindre. À la même époque, gladiator est une des insultes favorites de Cicéron contre Marc-Antoine. Le mépris dans lequel sont tenus les gladiateurs est visible et pourtant l'impensable survient : des chevaliers [3] osent combattre dans l'arène et encourir volontairement l'infamie ; et en 29 av. J.-C., un sénateur, Q. Vitellius [7], au lieu de respecter sa dignitas et l'antique grauitas de son ordre, se fait gladiateur. L'infamie est une célébrité négative qui naît de l'humiliation et du jugement du peuple sur l'individu et, lorsqu'elle est connue des institutions, elle peut s'actualiser en une citoyenneté restreinte 2. Les spectacles publics se déroulent dans des amphithéâtres ou des théâtres pouvant accueillir des dizaines de milliers * Doctorant à l'université Paris 1 Panthéon-Sorbonne, il prépare une thèse intitulée « L'in-famie à Rome sous la République et le Haut-Empire », sous la direction de J.-M. David. 1. Nous désignons ainsi les exemples, au sein du texte entre […], et listés dans le ta-bleau en annexe incluant les sources. Les abréviations utilisées pour les revues sont celles de L'Année Philologique. Les différentes sources utilisées dans cet article ont été consultées dans la collection des Belles-Lettres et, pour Dion Cassius, également dans la Loeb Classical Library.
Fichier principal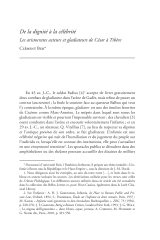 Bur - De la dignité à la célébrité. Les aristocrates gladiateurs de César à Tibère.pdf (218.19 Ko)
Télécharger le fichier
Origin : Publisher files allowed on an open archive