Cic., Att. 1,1, 2, Ascon., p. 93 Cl. et la carrière de Q. Curius (RE 7)
According to this study Q. Curius was quaestor or aedile by 70. At this time he was expelled from the Senate due to his gambling passion, but he reached the praetorship in 68 or 67, sought unsuccessfully the consulship of 64, joined the Catiline conspiracy and finally informed Cicero about this plot. Since he was senator as per Q. Cic., pet. 10, he wasn't index, even if he was almost rewarded for his help. To rebuild his career, true testimony of the decay of the aristocratic ethos, we reconsidered two ciceronian texts: in Cic. Att. 1.1.2 we go back to Curium instead of Turium for the name of the candidate for the consular elections of 65; in Cic. tog. cand. frg. 27 Crawford (ap. Ascon., p. 93 Cl.) we confirm F. Schoell's intuition correcting quaestorius in quaestuarius which is in keeping with Q. Curius' venality as a gambler and resolves the contradiction with his rank in 64.
Il ressort de notre étude que Q. Curius fut questeur ou édile avant 70, date à laquelle il fut exclu du Sénat à cause de sa passion pour le jeu, qu'il parvint néanmoins à la préture en 68 ou 67, brigua le consulat de 64 sans succès, rejoignit la conjuration de Catilina avant de devenir l'informateur de Cicéron. Étant sénateur comme le montre Q. Cic., pet. 10, il n'était pas index, quoiqu'il faillît être récompensé pour son aide dans la répression. Pour reconstituer sa carrière, symptomatique de la déliquescence de l'ethos aristocratique, nous avons proposé de modifier deux textes cicéroniens : dans Cic., Att. 1, 1, 2 nous revenons à la leçon Curium au lieu de Turium pour le nom du candidat aux élections consulaires de 65 ; dans Cic., tog. cand., frg. 27 Crawford (ap. Ascon., p. 93 Cl.) nous confirmons la suggestion de F. Schoell de corriger quaestorius en quaestuarius qui s'accorde avec la vénalité de Q. Curius, joueur invétéré, et résout la contradiction à propos de son rang en 64.
Fichier principal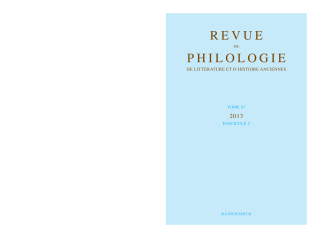 Bur - Curius RPh Tiré à part.pdf (580.02 Ko)
Télécharger le fichier
Origin : Explicit agreement for this submission