Karsts et paléokarsts du bassin de Mialet (Bordure Cévenole, Gard) : formation et évolution d'un karst démantelé
The Mialet basin is a limestone massif of 62 km 2 on the edge of the Cévennes Mountains, made of 400 m of limestones and dolomites. Two allochtonous rivers (Gardons) cross and dissect it. Many caves are to be found at each level and their formation cannot be explained with today's topography. Surface karstic features (dolines) are rare but karstic fillings and many speleothems can be observed on the surface. These deposits are former karst (paleokarst) cut by rivers incision. Recent karstic systems are organized differently but new subterranean circulations sometimes flow in old galleries and declog them.
Le bassin de Mialet est un massif calcaire de 62 km 2 appartenant à la bordure cévenole. Les phénomènes karstiques de surface sont rares, en revanche l'endokarst est bien développé et de nombreuses cavités de section importante existent à toutes altitudes qui débouchent à flanc de versant. La présence de poches de sédiments endokarstiques et l'abondance des massifs stalagmitiques exhumés confirment l'idée d'anciens systèmes karstiques démantelés. L'étude des cavités principales (grotte de Trabuc, évent de la Vernière) et de tronçons de galeries isolés, permet de proposer une évolution d'ensemble pour ces cavités. Le système majeur, formé en zone noyée profonde et peut-être sous couverture (marnes liasiques), a ensuite subi un comblement généralisé qui affecte toutes les cavités du secteur, quelle que soit leur altitude. L'incision des vallées provoque ensuite une réouverture du système. Certaines galeries sont réutilisées et partiellement vidées de leurs remplissages. Parallèlement, un nouveau système karstique se met en place, morphologiquement très différent du précédent, et en rapport avec la topographie commandée par l'enfoncement des Gardons. Au fur et à mesure de la dissection du massif, les galeries réutilisées sont de nouveau fossilisées et un important comblement calcitique s'y développe. Le recul des versants recoupe ces galeries et leurs remplissages affleurent en surface. Plusieurs traçages chimiques ont montré qu'il existe toujours une connexion hydrogéologique entre ces vieux tronçons et le niveau des circulations actuelles.
Fichier principal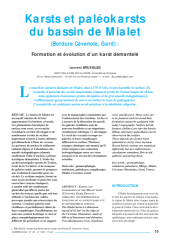 1997 - Karstologia 30 - Bruxelles - Karst de Mialet.pdf (998.19 Ko)
Télécharger le fichier
Origin : Publisher files allowed on an open archive