La saveur de l'immortalité : les mille et une vertus de l'ambroisie et du nectar dans la tradition homérique
Nectar and ambrosia are often considered the drink and the food of the gods. But if the gods are eternal, why should they need to drink and eat? To put it differently, is it a necessity for the gods to nourish themselves in order to keep on being immortal? And does the consumption of these products bring them immortality automatically? These questions address the problematic status of these mysterious substances: shall we consider nectar and ambrosia as the « foodstuff of immortality », e.g. some powerful remedy preventing decay and death? We cannot answer the question correctly if we envisage it from an alimentary perspective. This paper, which focuses on an analysis of Homeric poetry, aims at showing that nectar and ambrosia are much more than nutritious substances (trophè) for the gods; they both establish a complex and subtle relationship between the brotoi and the ambrotoi.
On dit souvent que le nectar et l'ambroisie sont la boisson et la nourriture des dieux. Mais s'ils sont éternels, les dieux ont-ils besoin de s'alimenter ? Les dieux doivent-ils se nourrir d'ambroisie et de nectar pour conserver leur immortalité ? Et, partant, le fait de consommer ces produits leur confère-t-il de facto l'immortalité ? Le problème réside en fait dans le statut que l'on prête à ces substances mystérieuses : s'agit-il de « nourritures d'immortalité », puissants antidotes à la mort ? Envisager la question uniquement sous l'angle de l'alimentation conduit à une impasse. L'objectif de l'article, qui s'appuie sur un examen des données homériques, est de montrer que nectar et ambroisie sont bien plus que de la nourriture (trophè) divine ; ils tissent un lien complexe et subtil entre le statut des brotoi et celui des ambrotoi.
Fichier principal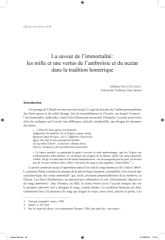 Nectar-ambroisieGrand-Clement.pdf (966.2 Ko)
Télécharger le fichier
Origin : Publisher files allowed on an open archive