Migrants volontaires et migrants citoyens
In the Senegal River Basin, the involvement of migrants in their home region has a long history built on the relations between countries of origin and host countries. In the case of Mali, decentralization, municipal zoning and the advent of local democracy have met the expectations of migrants who report, insofar as they have for decades funded utilities. Faced with an absent state, migrants, despite the distance, have mitigated this disengagement. In the region of Kayes, the management of local affairs is now in the hands of local councillors, some of whom are ex-migrants. For these councillors looking for partners, migrants have been identified as privileged interlocutors. On their side, with a rather surprising response, migrants have created an additional layer in the social fabric, with the establishment of community associations. In this context, they also engage in dialogue with elected officials and people on local development projects, with a view to renegotiate their role, including access to local citizenship.
Dans le bassin du fleuve Sénégal, l'implication des migrants dans leur région d'origine relève d'une longue histoire construite au gré des évolutions de la migration et des relations entre pays de départ et pays d'accueil. Si la migration est une ressource pour les localités d'origine, comme en témoignent les multiples transferts dont elles sont bénéficiaires, les migrants, sans remettre totalement en question ce schéma, ont reconsidéré leur engagement ces dernières années, en s'adaptant à la nouvelle donne politique locale. Dans le cas du Mali, la décentralisation, le découpage communal et l'avènement de la démocratie locale ont répondu aux attentes des migrants qui déclarent « avoir fait la décentralisation avant l'État », dans la mesure où, durant des décennies, ils ont financé des équipements collectifs. Face à un État absent, les migrants ont pallié ce désengagement, à distance. Dans la région de Kayes, la gestion des affaires locales se retrouve désormais aux mains des élus communaux, dont certains sont d'anciens migrants. Pour ces édiles à la recherche de partenaires, les migrants ont été identifiés comme des interlocuteurs privilégiés. Considérés soit comme des bailleurs, soit comme des relais susceptibles de porter les intérêts de la commune auprès des collectivités dans lesquelles ils résident, ils ont été directement intégrés dans le jeu politique local. De leur côté, avec une réactivité assez surprenante, les migrants ont créé un niveau supplémentaire dans le tissu associatif, avec la mise en place d'associations communales. Dans ce cadre, ils ont aussi engagé un dialogue avec les élus et les populations sur les projets de développement communal, dans la perspective de renégocier leur rôle, notamment leur implication financière, mais aussi leur accès à la citoyenneté locale.
Fichier principal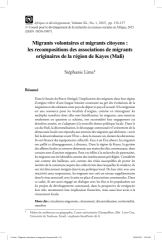 LIMA-2015-Africa development-Migrants volontaires et migrants citoyens.pdf (485.86 Ko)
Télécharger le fichier
Origin : Publisher files allowed on an open archive