Les réseaux personnels des doctorants dans des chaînes latentes - Retour sur une recherche-action
This article is based on qualitative data collected through interviews and participant observation with doctoral students in the humanities and social sciences, who used social network analysis to identify their professional colleagues. We obtained a series of name generators by asking students to list those who help them in their work, those others who work with their supervisors, and those they would like to contact to make progress. The analysis of these personal networks reveals three types of "networks", which depend on the student's embeddeness in the academic world or in their research field and thus their relative lack of awareness of potential direct or indirect support by their supervisor. We highlight the importance of chains of latent ties that could be activated if the student was more aware of them.
Cet article est basé sur des données qualitatives obtenues par entretien et observation participante auprès de doctorants en sciences humaines et sociales, qui ont utilisé l'analyse des réseaux sociaux de leur entourage professionnel. En demandant aux étudiants de lister les personnes qui les aident pour leur doctorat, celles qui collaborent avec leurs encadrants, et celles qu'ils souhaiteraient contacter pour avancer, nous disposons d'une série de générateurs de noms, permettant l'analyse de leurs réseaux personnels. Les résultats montrent l'existence de trois types de « réseaux », qui dépendent de l'insertion du doctorant dans la sphère universitaire ou dans celle de son terrain de recherche, et par conséquent, de sa relative méconnaissance des appuis potentiels directs ou indirects son directeur de thèse. Nous mettons en lumière l'importance des chaînes latentes que l'étudiant pourrait activer pour conduire sa thèse s'il en avait davantage.
Fichier principal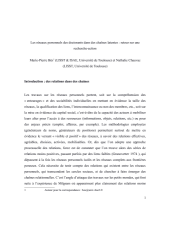 Bès&Chauvaclienslatentsbms.pdf (497.28 Ko)
Télécharger le fichier
Origin : Files produced by the author(s)