Etayage, stratégie d'aide à la compréhension et à la production orales en classe de français langue étrangère (FLE) en milieu universitaire chinois - Le cas de l'Université Normale de Chine du Sud, Canton, Guangdong
Our study is based on analyses of teaching situations and practices organized in a controlled experience. The focus is on French as a Foreign Language (FFL) Teachers guiding their students during oral sessions and scaffolding. Aim is to observe and evaluate strategies used by teachers to improve oral comprehension and oral production. We have compared four FFL classes two times using same teaching materials conducted by a Chinese teacher and conducted by a French Canadian teacher. Data consists of eight video classes analyzed with observation grid. This study is part of a praxeological research, which aims to define pedagogical and didactical guidelines for French as a Foreign Language (FFL) in Chinese universities.
Notre étude porte sur des analyses de situations et de pratiques de classe, mises en place dans le cadre d'une expérience contrôlée. Nous nous penchons sur la manière dont les enseignants de FLE guident leurs apprenants lors de séances de cours d'oral et sur la nature de leur étayage. L'objectif est de mettre en valeur les diverses stratégies d'étayage utilisées par les enseignants et voir en quoi elles favorisent ou non la compréhension et la production orales chez les apprenants. Dans une perspective interactionniste, nous avons choisi de comparer deux fois quatre cours (mêmes supports, même nombre d'apprenants, même niveau linguistique) dispensés par deux enseignants (de culture, nationalité et formation différentes : chinois et québécois). Grâce à la retranscription des cours filmés, nous travaillons sur un corpus, analysé à l'aide d'une grille d'observation et d'analyse de l'étayage, conçue à partir de diverses disciplines, pour les besoins de la recherche. Notre étude s'inscrit dans une recherche praxéologique dont les visées seraient d'apporter des pistes pédagogiques, de faire des propositions didactiques dans le domaine de l'enseignement du FLE en milieu universitaire chinois.
Fichier principal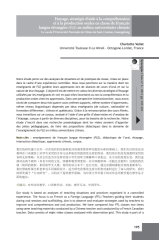 Synergie Chine 6 Vallat.pdf (291.38 Ko)
Télécharger le fichier
Origin : Publisher files allowed on an open archive