How do you double your C ? Evidence from an Oïl dialect
This paper investigates Double Complementizer Constructions (DCC), as in Et, quand qu' la guerre qu' all' s'ra passée (lit. 'And when that the war that it will be over') in a variety of the Picard language spoken in an area of Northern France called Ternois. We show that the restrictions on its use described for other languages don't apply to Ternois, neither as regards the contexts (verb mood, kind of embedded clause) nor as regards the kind of preposed XP (heaviness, kind of preposing, informational value) that allow it. From a typological point of view, DCC in Ternois thus patterns only with some Southern Italian dialects (Ledgeway 2005). From a theoretical point of view, I propose that the second complementizer does not head TopP but FinP : it is inserted there to check Tense features, than head-moves up to the highest projection of the CP domain. This proposal accounts for the absence of DCC in infinitive clauses, with non-doubled subjects, and with qui-relatives. Under a copy theory of movement, it also offers a way to account for the variation of C° realization in this area.
Cet article examine la construction à double complémenteur (DCC), où deux instances de que entourent un élément détaché à gauche dans les subordonnées (Et, quand qu1' la guerre qu2' all' s'ra passée, ...), productive dans une variété de picard parlée dans la région du Ternois. On montre que les restrictions constatées dans d'autres langues disposant de constructions similaires ne s'appliquent pas au Ternois, ni pour les contextes permettant la construction (mode du verbe, type de subordonnées), ni pour le type d'élément détaché qui l'autorise (poids, type de détachement, valeur informationnelle). D'un point de vue typologique, les DCC du Ternois se rapprochent ainsi de celles décrites pour des dialectes d'Italie du Sud (Ledgeway 2005), et s'opposent à toutes les autres. D'un point de vue théorique, on propose que le second que n'est pas la tête d'une projection informationnelle: il est inséré comme tête d'une projection Fin, pour vérifier des traits de temps, puis se déplace par mouvement de tête dans la projection supérieure du domaine du complémenteur. Cette proposition permet d'expliquer l'absence du double que à l'infinitif, ainsi qu'avec les sujets SN non redoublés et les relatives en qui; elle pourrait également rendre compte, si l'on accepte le principe du mouvement par copie, des variantes dans la réalisation du complémenteur pour cette aire (quand que mon fils ø il sera grand, quand mon fils ø il sera grand, quand que mon fils qu'il sera grand).
Fichier principal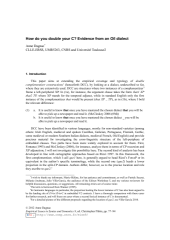 eiss9_dagnac.pdf (403.34 Ko)
Télécharger le fichier
Origin : Publisher files allowed on an open archive