Modal Ellipsis in French, Spanish and Italian
This paper deals with constructions such as 'Paul est allé à la montagne mais Luc n'a pas pu' ('Paul went to the mountain but Paul couldn't'). We show that, like English VP-ellipsis, they verify all the diagnostics suggesting the presence of inaudible syntactic structure rather than that of a null pronoun : unlike related structures that involve a full pronoun (cf. Il le pouvait, lit. 'He could it', Il pouvait le faire, lit. 'He could do it'), they indeed allow long-distance dependancies betwee a WH-item and a position within the elided site, as in interrogatives, free relatives or ACD constructions - provided, in the latter case, that the subjects co-refer. However, the kind of remnants they allow, and the possibility of voice mismatches (Merchant 2008) argue for elision of a broader structure than in English VPE. We then show that similar structures in Spanish and Italian, contrary to previous claims (Depiante 2006, Cechetto & Percus 2007), also involve PF-deletion : the display the same extraction properties, along with the same constraints (contrastive focusing for interrogatives, subject coreference for ACD constructions).
Cet article se consacre aux constructions de type Paul est allé à la montagne mais Luc n'a pas pu. On montre que ces constructions, à l'instar de l'ellipse du SV en anglais (John can play the guitar; Mary can play the guitar, too) vérifient tous les critères traditionnellement avancés pour diagnostiquer, à la droite du modal, la présence de structure syntaxique inaudible plutôt que celle d'un pronom nul indécomposable. Elles permettent notamment la dépendance à distance entre un mot qu- et le matériel " manquant ", que ce soit dans les interrogatives, les relatives libres (Il embrasse qui il peut) ou les relatives de type ACD (antecedent contained deletion : Jean a lu tous les livres qu'il pouvait) sous réserve de coréférence des deux sujets - à la différence de structures apparentées faisant intervenir une anaphore pronominale (*Jean a lu tous les livres qu'il le pouvait/ qu'il pouvait le faire). Néanmoins, le type d'éléments qui peuvent rester en dehors de l'ellipse, ainsi que les possibilités de non-parallélisme de voix (Merchant 2008) entre site élidé et antécédent argumentent pour l'ellipse d'une structure plus complexe (proposition) que dans l'ellipse du syntagme verbal anglais. Nous montrons enfin que les constructions similaires de l'espagnol et de l'italien, contrairement à ce qui a été affirmé précédemment (Depiante 2006, Cechetto & Percus 2007), reposent sur une ellipse similaire et non un pronom nul : elles présentent les mêmes propriétés d'extraction, assorties des mêmes contraintes (contraste focal pour les interrogatives, coréférence des sujets pour les relatives).
Fichier principal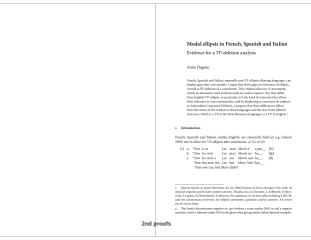 LSRLsecondproofsDagnacH.pdf (150.48 Ko)
Télécharger le fichier
Origin : Files produced by the author(s)