The crisis of interpretation in The Book of Margery Kempe
Margery Kempe's account of her mystical experience reveals a major fault line of late medieval society, where the authorities come into conflict. The new, highly personal strain of devotion she embraces confronts the clergy with the problem of controlling and channelling the powerful emotional expressions that result. The book documents Margery's quest for trustworthy and sympathetic spiritual counsellors, a search that is never quite resolved. Christ seems to represent the ideal confessor, speaking from and in the penitent's heart. Still, in order to confirm their authenticity, Margery must disclose her 'feelings' to clerical authorities, and the response to her revelations is ambivalent. To make interpretation more difficult, Margery frequently proclaims that inner experience is impossible to represent; she does not have the vocabulary to translate it for her judges. In The Book of Margery Kempe the fluctuation between feelings of doubt and conviction, dread and relief, exposes the interpretative difficulties that spiritual experience poses in the later Middle Ages.
La représentation que donne Margery Kempe de son expérience mystique laisse transparaître une faille majeure dans la société du Moyen Age tardif marqué par un conflit au sein des autorités séculaires et cléricales. Le nouveau mode de dévotion très personnel qu'elle adopte met le clergé en demeure de contrôler et de canaliser les émotions puissantes qui en résultent. Le livre nous montre la quête de Margery pour trouver des conseilleurs spirituels compréhensifs, quête qui ne trouve pas d'aboutissement. Le Christ semble incarner le confesseur idéal, car il parle à partir et dans le cœur de la pénitente. Cependant, pour confirmer l'authenticité de ses " sentiments ", Margery doit les révéler aux clercs, cependant les réponses qu'ils donnent à ses révélations sont ambivalentes. Pour rendre leur tâche d'interprétation encore plus difficile, Margery insiste souvent sur l'impossibilité de représenter son expérience intérieure; elle n'a pas les mots pour s'exprimer devant ses juges. Dans Le Livre de Margery Kempe, l'oscillation entre le doute et la confiance, l'angoisse et le soulagement, met en évidence les problèmes herméneutiques que pose l'expérience spirituelle au Moyen Age tardif.
Fichier principal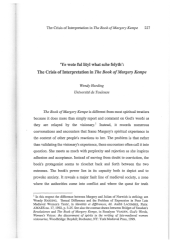 Harding_Crisis_in_Book_of_Margery_Kempe.pdf (4.66 Mo)
Télécharger le fichier
Origin : Explicit agreement for this submission