The participative regional planning between injunction and co-construction
El ordenamiento territorial participativo entre imposición y co-construcción
L'aménagement participatif, entre injonction et co-construction
The dissertation focuses on participative regional planning through a case study of an Ecological Metropolitan Mountain Park in Bogotá. Taking an international perspective, it addresses issues of local scale and public sphere and emphasizes the relationships between democracy, technocracy and regional planning. The study explores the relationships between the individual and the collective and their spatial practices and stresses the importance of the social representation of the other and the place within the multi-scalar process of territorial construction. Based on an historical analysis, the study points out that participation should be analyzed in terms of commitment of social actors and individuals rather than in terms of citizen participation. The study is carried out within the broader context of urbanization and the emergence of sprawling and deprived neighborhoods in the peripheries of major cities. Stressing the issues of illegality and informality, it questions the origin and status of these peripheries and assesses the influence of public policies. The study highlights two parallel processes of territorial production and appropriation by identifying the challenges confronting the actors as they set up the rules. Despites the attempts of the experts, who are using legitimate language, to maintain their hegemony the capacity of action and the competences of other actors become increasingly visible. Caught between injunction and initiative, participative planning is bound to move beyond a mere information phase and to engage into concerted action while being aware that conflict is an essential part of the process and that there is no place for anonymity.
La tesis analiza y define el ordenamiento participativo, a partir de un estudio de caso —un parque ecológico metropolitano de montaña— dentro del contexto internacional. Interpela los paradigmas de lo local y de espacio público y señala el nexo entre democracia, tecnocracia y urbanismo. La tesis trata las relaciones entre el individuo, la colectividad y el espacio, revelando la importancia de las representaciones sociales del Otro y del lugar en la construcción territorial multi-escalas. El enfoque histórico invita a utilizar de preferencia la expresión "participación de actores sociales" en la cual el compromiso del sujeto es importante, en vez de participación ciudadana. El estudio se inscribe en el contexto de la urbanización y de la aparición y extensión de periférias pobres en las grandes ciudades y se interroga sobre la ilegalidad o informalidad de su estatus y origen asi que sobre la influencia de las politicas publicas. Se identifican dos procesos paralelos de producción y apropiación territorial, exponiendo aquello que los actores ponen en juego al fijar la reglamentación. A pesar de los esfuerzos de los expertos, portadores de un lenguaje legítimo, para guardar la hegemonía en el ordenamiento, se hace evidente la capacidad de acción y las competencias de los demás actores. El ordenamiento partipativo entre coerción e iniciativa, es llamado a ir más allá del estado de información para llegar a la acción conjunta, sabiendo que el conflicto es esencial y que no hay lugar para el anonimato.
Cette thèse analyse et définit l'aménagement participatif à partir d'une étude de cas — un parc écologique métropolitain de montagne — et en l'insérant dans une perspective internationale. Elle questionne les paradigmes du local et de l'espace public et examine le rapport entre la démocratie, la technocratie et l'urbanisme. La thèse aborde les relations entre l'individu, le collectif et l'espace et révèle l'importance des représentations sociales d'autrui et du lieu dans la construction territoriale multiscalaire. L'approche historique incite à parler davantage d'une participation des acteurs sociaux dans laquelle l'engagement du sujet est important, que d'une participation citoyenne. L'étude s'inscrit dans le contexte de l'urbanisation et de l'apparition et l'étalement des périphéries démunies autour des grandes villes et s'interroge sur l'illégalité ou l'informalité de leur statut et origine ainsi que sur l'influence des politiques publiques. Deux processus parallèles de production et d'appropriation des territoires sont mis en lumière, en décelant les enjeux d'acteurs dans la fixation des règles. Malgré les efforts des experts, porteurs du langage légitime, pour maintenir l'hégémonie dans l'aménagement, la capacité d'action et les compétences des autres acteurs deviennent évidentes. L'aménagement participatif, entre injonction et initiative, est appelé à dépasser le stade de l'information pour aboutir à l'action conjointe, tout en sachant que le conflit est essentiel et qu'il n'y a pas de place pour l'anonymat.
Fichier principal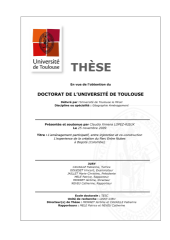 these_cxlopezrieux participation-amenagement.pdf (20.81 Mo)
Télécharger le fichier