Portuguese People in Brazil Empire (1822-1889): the men of letters' specific paths in the Portuguese colony of Rio de Janeiro
Les Portugais dans l'Empire du Brésil (1822-1889) : les trajectoires spécifiques des hommes de lettres au sein de la colonie portugaise de Rio de Janeiro
Os Portugueses no Império do Brasil (1822-1889) : as trajetórias específicas dos homens de letras no seio da colónia portuguesa do Rio de Janeiro
The almost constant growth of the Portuguese entries in Second half of the 19th century Rio de Janeiro straightens the foundations of a Portuguese colony in the Empire Capital. Active in both the economic and commercial businesses, this colony also promotes social networks in the domains of charity, sport and culture in order to help the colony's members and protect their own interests. More specifically, the men of letters who create the few literary Portuguese associations in Rio de Janeiro try to defend the Kingdom's greatness, to fight against lusofobia through the promotion of the Luso-Brazilian Fraternity paradigm and to facilitate their own inclusion in the carioca public space.
L'essor presque continu des entrées de migrants portugais à Rio de Janeiro dans la deuxième moitié du XIXe siècle consolide les fondements d'une colonie portugaise dans la capitale impériale. Cette colonie, outre sa présence dans le tissu économique et commercial de Rio de Janeiro, tisse un réseau d'associations de bienfaisance, sportives et culturelles afin de soutenir ses membres et défendre leurs intérêts communs. Entre autres, des associations littéraires permettent aux quelques hommes de lettres portugais de la colonie de défendre la grandeur du royaume du Portugal, d'opposer au paradigme de la lusophobie celui de la confraternité luso-brésilienne, et de faciliter in fine leur insertion dans l'espace public carioca.
O crescimento quase contínuo das entradas dos migrantes portugueses no Rio de Janeiro na segunda metade do século XIX acompanha a consolidação dos fundamentos de uma colónia portuguesa na capital imperial. Além de estar presente nos sectores económicos e comerciais do Rio de Janeiro, esta colónia tece uma rede de associações de beneficência, esportivas e culturais em benefício dos seus membros e defesa dos próprios interesses. Entre as quais as associações literárias permitem aos homens de letras portugueses da colónia defenderem a grandeza do Reino de Portugal, lutarem contra a lusofobia através da promoção do paradigma da confraternidade luso-brasileira, e facilitarem sua própria integração no espaço público carioca.
Fichier principal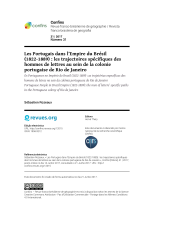 Article confins-12015.pdf (423.99 Ko)
Télécharger le fichier
Origin : Publisher files allowed on an open archive