La convention financière chez Keynes
This article attempts to question the conventionalist interpretation of the General Theory of Employment, Interest, and Money's twelfth chapter. It analyzes the keynesian concept of financial convention. Can it be thought as an alternative way of coordination? Does it truly provide a theoretical basis for the analysis of the French Convention School? According to our reading of the Chapter 12, coordination does work through prices, yet now defined as product of opinions.
Résumé – Cet article tente de questionner l'interprétation conventionnaliste du chapitre 12 de la Théorie générale, et d'analyser la signification du concept de convention financière chez Keynes. La convention financière est-elle réellement chez Keynes un mode de coordination alternatif aux prix? La réponse à cette question nous permettra de savoir s'il est possible de trouver chez Keynes un fondement théorique à l'analyse de l'économie des conventions. D'après notre analyse, il n'existe pas véritablement de mode de coordination alternatif aux prix chez Keynes, mais plutôt des prix qui sont le produit pur d'opinions.
Fichier principal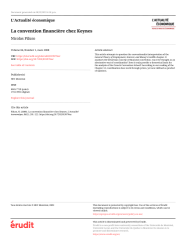 019976ar.pdf (278.73 Ko)
Télécharger le fichier
Origin : Files produced by the author(s)